STRONG PERFORMANCE FOR STRONG BEVERAGES
Optimise your sales – with Melitta® INSIGHTS
Whether you are in the restaurant or hotel trade or mass catering: your coffee machines have to be used at optimum capacity to generate the best possible turnover. With Melitta® INSIGHTS you can keep an eye on your coffee machines all the time. Thanks to smart networking, you can call up lots of data from your machines near real time and gain valuable insights into daily usage. For example, Melitta INSIGHTS offers you the chance to adapt your coffee business even better to the needs of your guests – and increase your turnover.
Keep an eye on valuable data the easy way
Melitta® INSIGHTS is the web-based online portal for the perfect organisation of your coffee business. You can use it to check the functionality of your machines, monitor operating times, analyse usage, compile comprehensive reports, call up statistics and lots more. You can easily run it via the browser on your computer or mobile devices. Instantly comprehensible with intuitive operation. It doesn't get easier than that.
What Melitta® INSIGHTS has to offer
All the benefits quickly explained Administration
Make the administration of your machine fleet easy for yourself. Keep an eye on branches, machines, users and beverages – and benefit from key additional information. Monitoring
Make sure your machines are ready for use. Check their functionality, call up current status messages and always stay informed of whether and how your machines are running. Analytics
Analyse your customers' consumer behaviour and optimise your range. The clear presentation of sales figures from entire product groups right down to individual beverages gives you transparency. Communication
Keep staff and customers up to date with new ideas – or draw attention to your products with targeted advertising. By uploading customised screensavers, the displays on your machines become a striking medium of communication.
KNOW MORE - UNDERSTAND BETTER - ACT WITH GREATER FOCUS:
How to profit from Melitta® INSIGHTS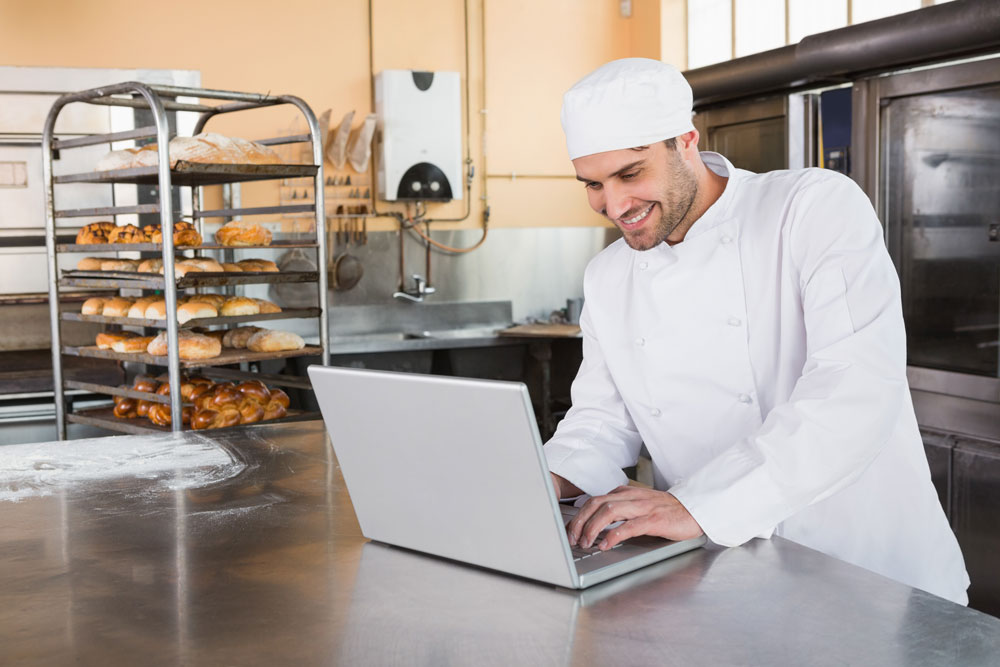 Carlo the baker shows you how
Optimise your sales the easy way – with Melitta® INSIGHTS
Carlo runs a successful chain of bakeries in Germany. Melitta® INSIGHTS helps him to make business in his bakery cafés even more lucrative and successful. See for yourself how easy it is …
Go to video
EVERYTHING IN SIGHT - EVERYTHING UNDER CONTROL:
Discover the user-friendly Melitta® INSIGHTS online portal
Everyday life is already complicated enough. Which is why we have designed our Melitta® INSIGHTS online portal to be extra user-friendly. Thanks to the clear structure and intuitive user elements, all of the functions can be used immediately. So you can profit from its numerous benefits in your day-to-day business right from the start.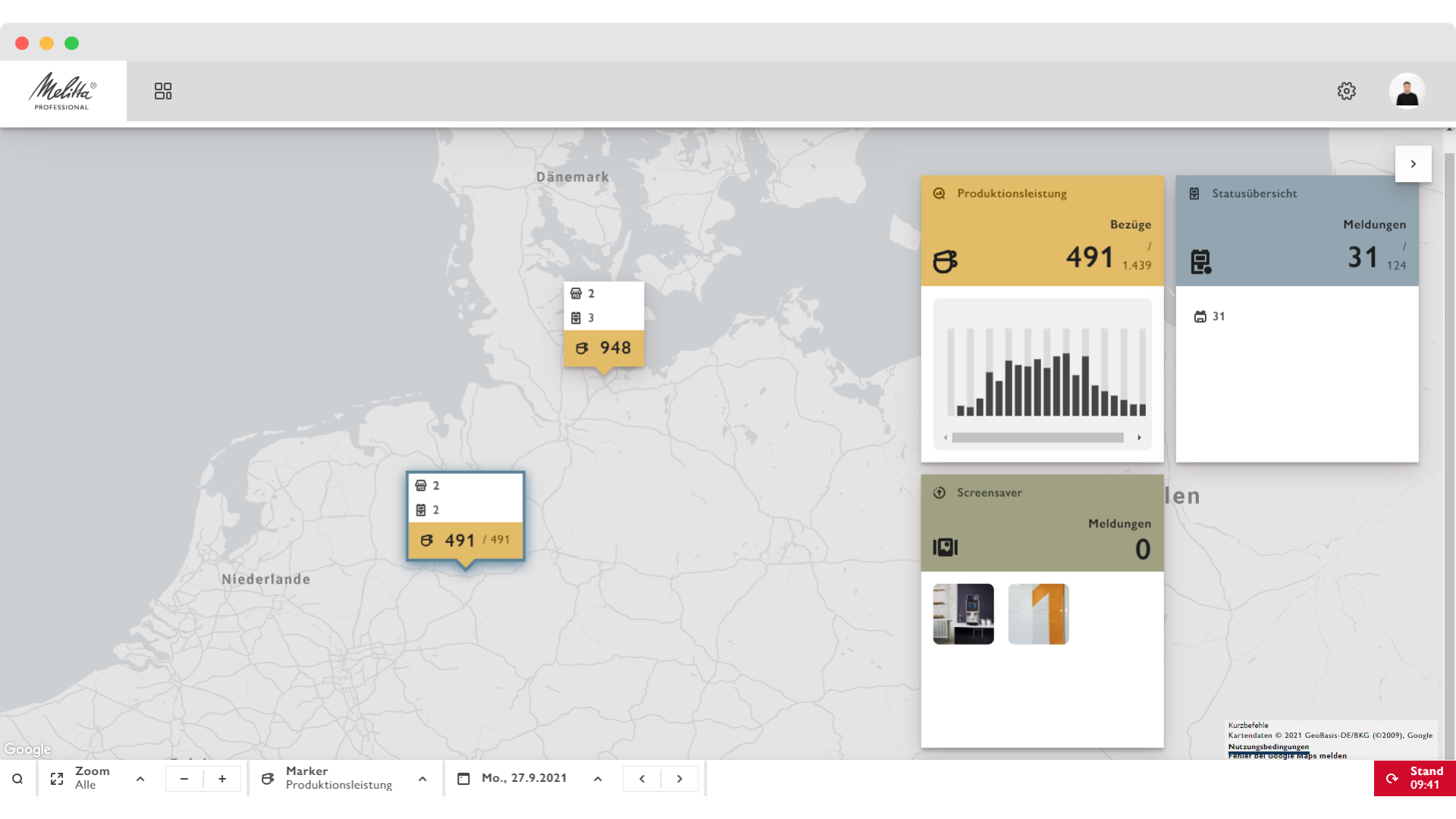 Dashboard
Central access to the world of Melitta® INSIGHTS - All important information at a glance
Clear display of location and fleet data
All output quantities at a glance
Direct information on machine status
Know which campaign is currently running
Administration
Full transparency of users, branches, machines, beverages and beverage groups – for optimum administration of branches and machine fleets.
Simple administration of users and accounts
Clear management of every machine
Quick set up, modification and management of branch entries
Information about opening times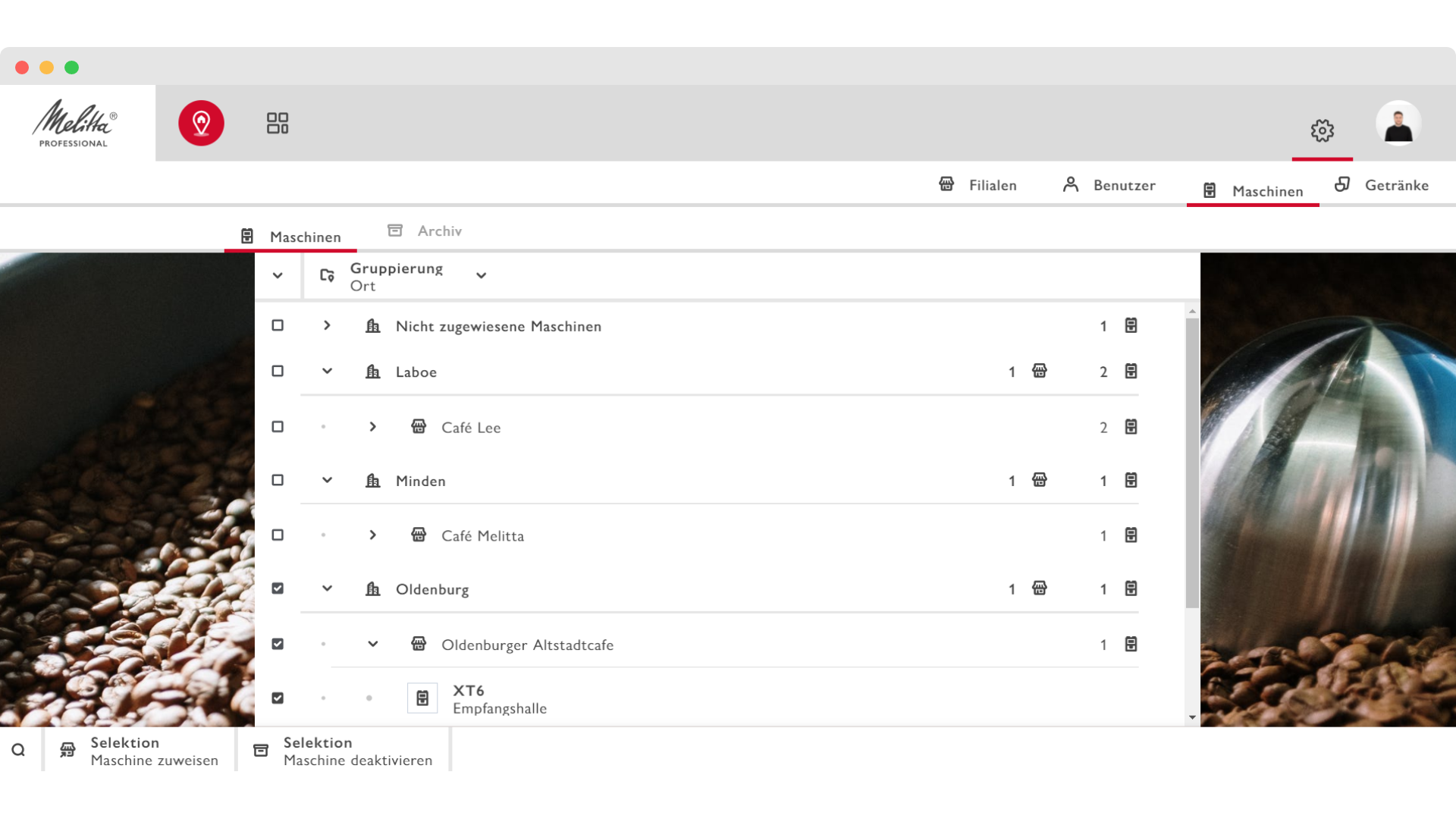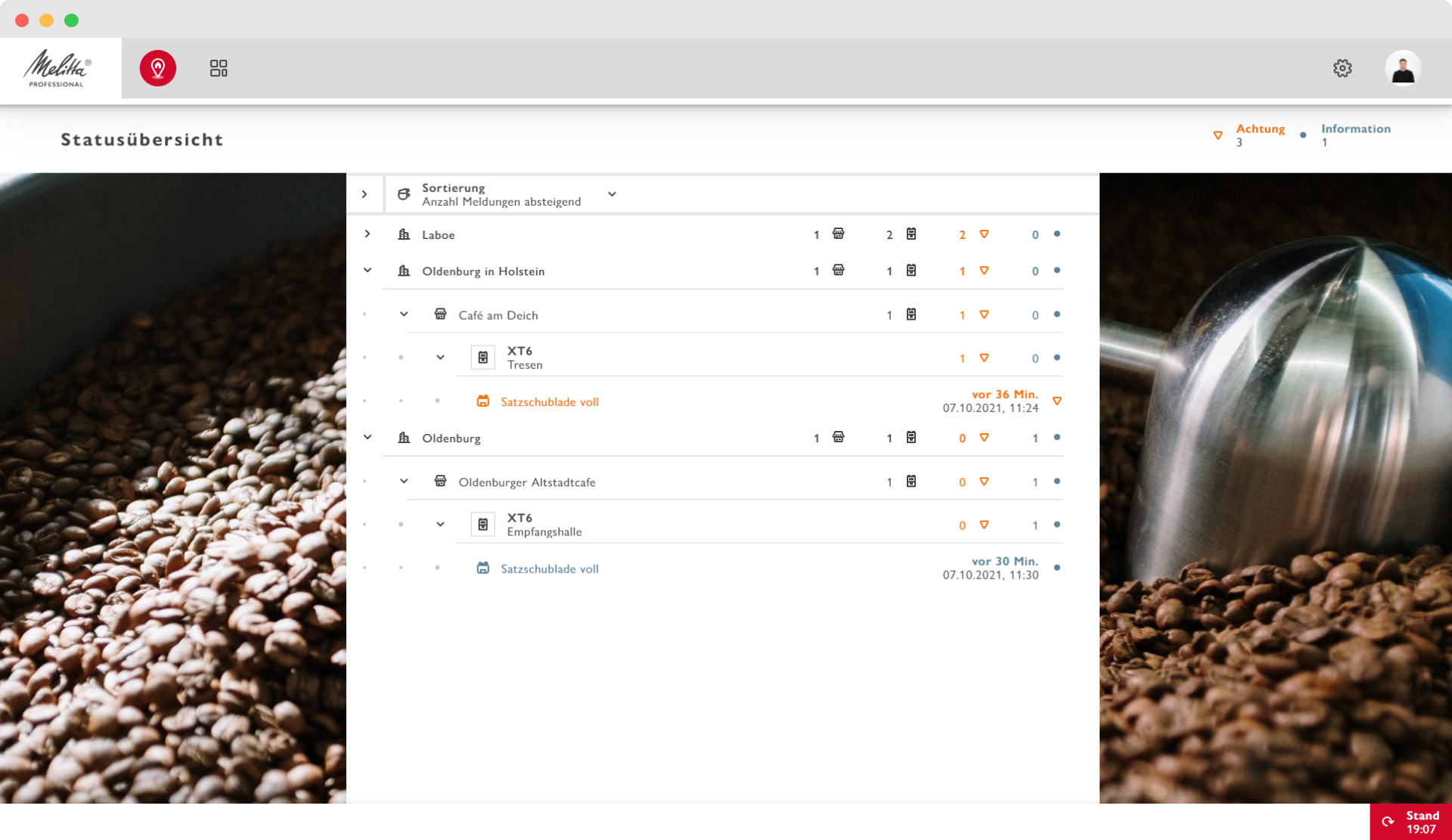 Status reports
Precise information about each individual machine - to avoid downtime, understand the
Locational information for every machine using Google Maps technology
Clear presentation of status information for each individual machine
Up-to-date information about usage, refilling, cleaning, errors and lots more
Quick capture and categorisation of all data - including the issue of alert messages
Sales data
Clear presentation of beverage sales for full transparency of your coffee business - for quick provision of information relevant to decisions
Provision of statistics regarding beverage sales
Full transparency regarding times and quantities of beverages dispensed
Presentation from a single beverage to the production of an entire machine fleet
Extensive options to customise the presentation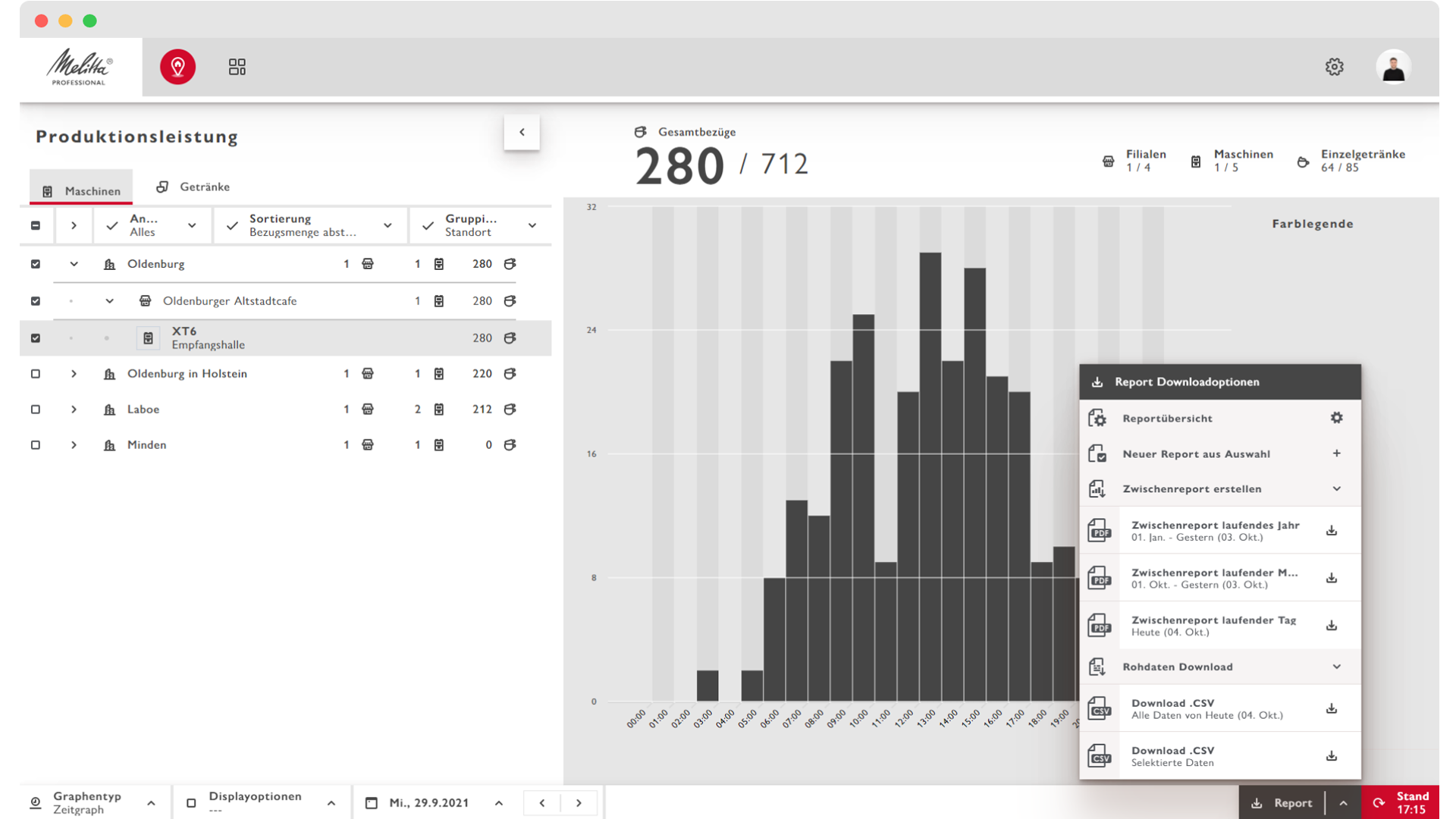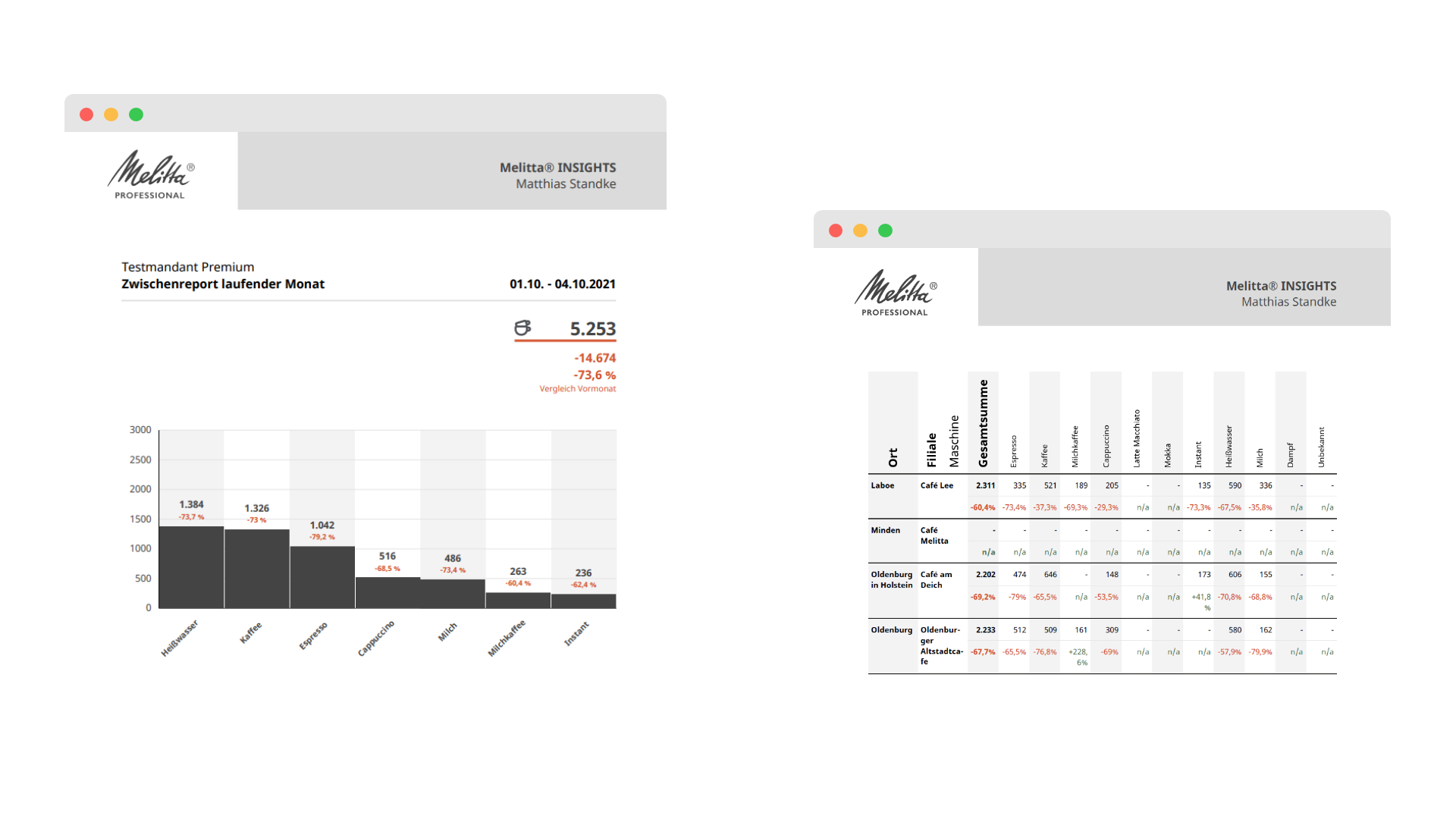 Reports
Customised compilation of analyses and reports - for one-off or regular information as well as long-term planning
Comprehensive reports on all locations, machines and beverages dispensed
Simple preparation of ad hoc reports and regular analyses
Data export function in CSV format for advanced processing
Option to directly issue all reports in PDF format
Always up to date thanks to daily reports directly by email
Download sample report (PDF)
Campaigns
With your own screensavers, every machine display becomes a perfect medium of communication - to reach customers directly at the right time
Produce, edit and activate your own creative screensavers
Full control - from individual machines to the entire fleet
Timed campaigns for optimum POS presence
See at a glance which screensaver is currently running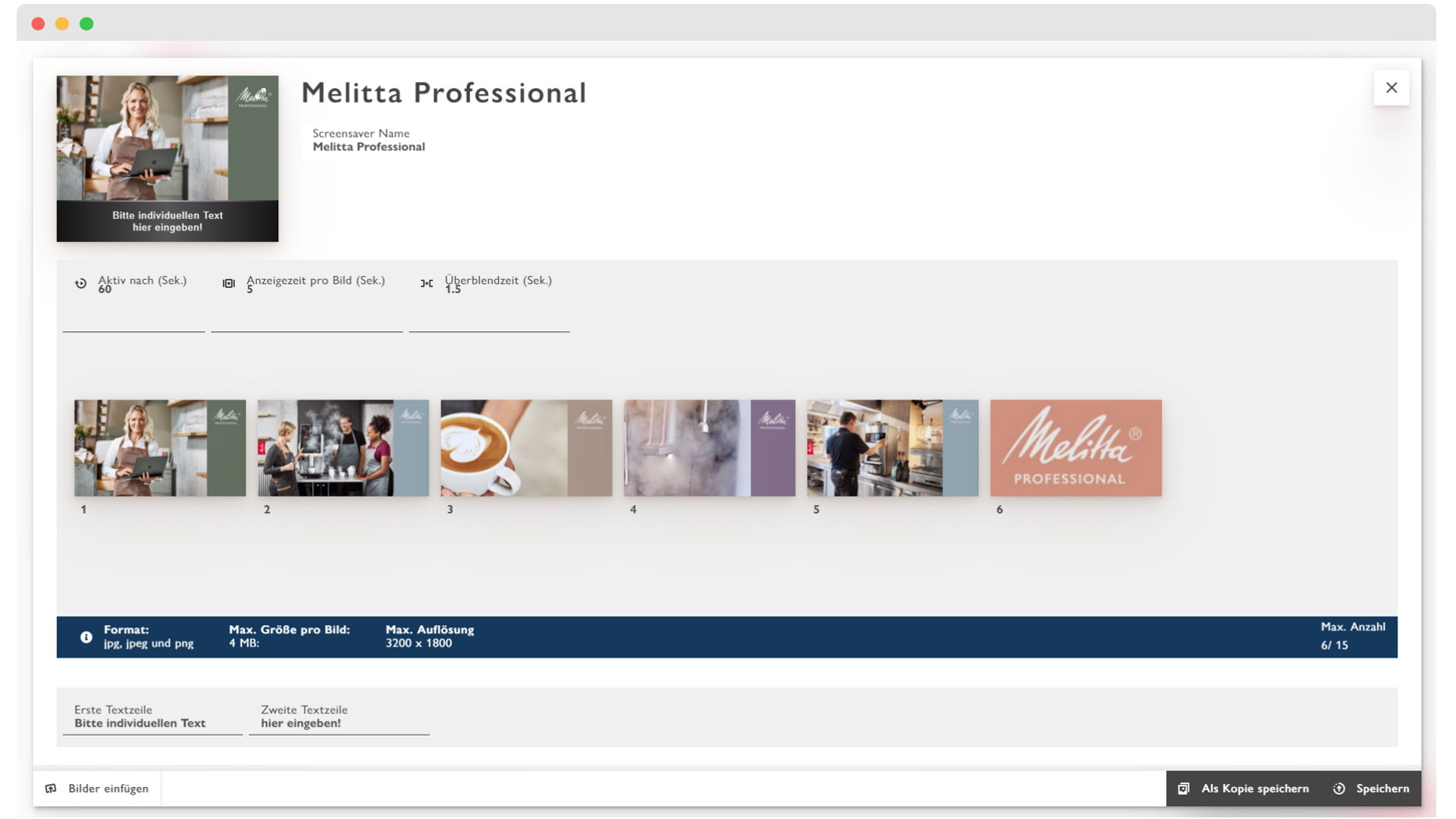 KNOW EXACTLY WHAT NEEDS TO BE DONE:
Provide relevant information to your staff
Melitta® INSIGHTS gives you the chance to supply your staff with exactly the right information that they really need on a daily basis. The relevant data is filtered according to an employee's department, role or location and made available automatically on the online portal. Here are a few examples:
THE MELITTA® INSIGHTS SERVICE PACKAGES
Find the right solution for your business
Whether you are a small bakery or an international hotel chain: every business has its own unique challenges. Which is why you can choose from various Melitta® INSIGHTS service packages: from the entry-level Standard package to the customised Top package for large chains. The online portal functions vary depending on the package.
Standard
Use all the key features for monitoring functions, analysis, reporting and administration and get online access to valuable information, data and statistics about your coffee business - ideal for entry level users.
Avoid periods of inactivity: always know which machines are currently running, which ones need refilling or where grounds containers need emptying
Check on hygiene: discover which machines need cleaning
Optimise your range: identify your guests' preferences and work out the best sales periods
Increase sales: determine sales potentials and plan sales promotions
Professional
Use all of the functions in the Standard package and profit additionally from key extra functions for management and reporting - ideal for ambitious professionals.
Target your advertising: use machine displays to show customised screensavers and current advertising banners, install and manage suitable images online
Carry out campaigns: install screensavers with informative or advertising banners onto the machines from a central location - to promote daily specials, for example
Compile customised reports: have special reports compiled automatically when you need them and make them available to download or send by email
ONE PLATFORM, VARIOUS EDITIONS
Melitta® INSIGHTS customised and flexible to use
Now it's your turn - experience Insights live!
Take a look at our own coffee sales with the Melitta demo account.