"Together we provide enjoyable moments for our customers at the 'Hus'."
Innovative "Hus" with seven floors and a great view over Vienna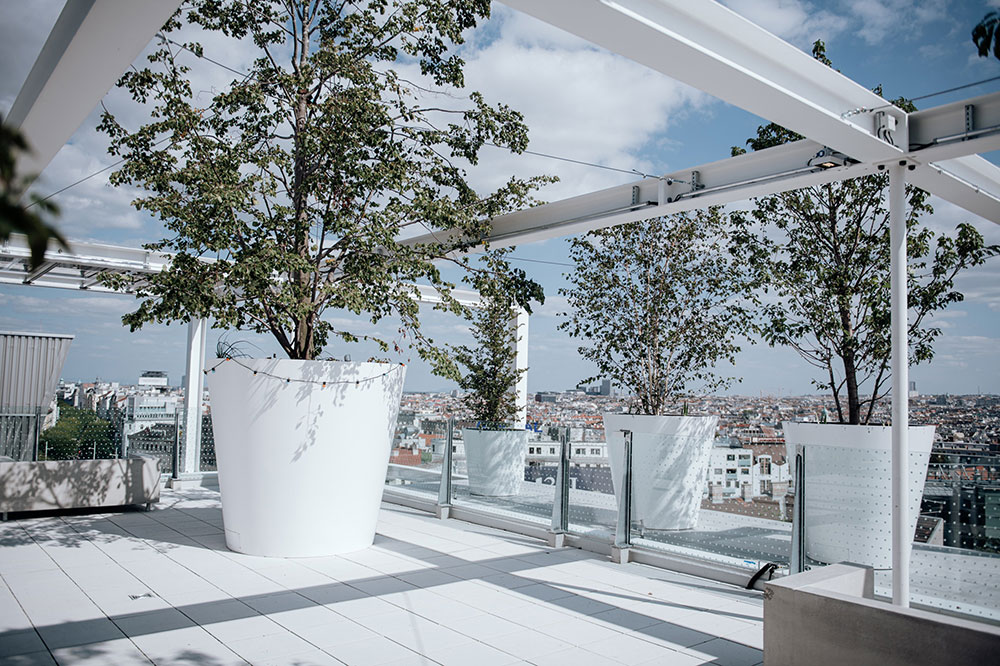 The team of architects from "Querkraft" designed the visionary project of a seven-story vertical park which houses both a City IKEA and an Accor hostel under the JO&JOE brand. Also featured under the shared roof and on the roof terrace: a total of 10 fully automatic coffee machines supplied by Melitta Professional. "Together we ensure that our customers enjoy moments of pleasure in the Hus", comments IKEA Market Manager Johanna Cederlöf.
Working together with two international brands under one roof
"Working together with two international brands under one roof worked out really well," reports Ricardo Holland. The Global Key Account Manager at Melitta Professional is responsible for the cooperation with IKEA and Accor. He is particularly indebted to his team on site. Sales Manager Thomas Klima is the contact person in Vienna, while customer service technicians Mato Nikic and Klaus Weissenberger installed the coffee machines and set them up according to the respective wishes and conditions on site. "It's a real treat for us to have two customers under one roof here," comments Thomas Klima.
Urban & sustainable
IKEA Vienna Westbahnhof is an extraordinary furniture store that aims to be an attractive meeting place in Vienna where people will want to come and linger – inside and also on the 1,800-square-meter lush green roof terrace, where JO&JOE and IKEA serve drinks, specialty coffees, and snacks while their guests enjoy breathtaking views of the city. In addition to the world's first IKEA snack bar TOPPEN (meaning "top!" in Swedish) on the seventh floor, the rooftop terrace is also open to the public with no obligation to buy anything.
The new City IKEA is designed for car-free shopping. Smaller products that can be transported by public transport or bike can be purchased on site – over 3,000 items are in stock for customers to take home. All larger products can be ordered for delivery by electric vehicles or via click & collect. Sustainability is at the core of IKEA Vienna Westbahnhof and can be found in and around the entire building: 160 trees and shrubs inspired by Swedish national parks give the façade and roof terrace its green look. In addition, more than 800 m² of photovoltaic panels have been installed on the roof and there is plenty of space for bird nests and beehives.
> 800
>3.000
items are in stock for customers to take home
160
trees and shrubs give the façade and roof terrace its green look
7
1
2
JO&JOE
The open house accommodation concept of JO&JOE Vienna occupies the top two floors and is aimed at both "tripsters" and "townsters" with its creative mix of hostel, restaurant, bar and event location with extended living room. It targets both young and young-at-heart travelers as well as business guests who embrace JO&JOE's open character and sharing principle as part of their own lifestyle. This is also evident from the sleeping quarters: with two distinct room options, "Togethers" and "Yours", there's something for everyone. The 44 "Togethers" are multi-bed rooms that preserve the privacy of their guests thanks to clever planning and smart room layouts. Those traveling in smaller groups or on business can stay in one of the 33 "Yours" rooms, which are designed for two or three people and have their own bathroom. In total, JO&JOE Vienna has 345 beds. Prices start from 20 euros per bed and night, depending on the room type.
In addition, the spacious communal areas – from the restaurant to the roof terrace – provide ample space for the JO&JOE community to chill and mingle. The building's design is also suitably unconventional and trendy. The four international urban street artists Lady K, Reso, Dinho Bento and Skirl have transformed the walls in the public areas and the guest rooms into dazzling works of art. "We are not your typical run-of-the-mill establishment, and that's exactly our trademark," explains Julia Neuhold, General Manager of JO&JOE Vienna: "We are young, brash, different, and simply can't be pigeonholed. We are particularly pleased that so many Viennese residents are taking us into their hearts as the 'place to be' – a hub for a cosmopolitan and open society, right in the middle of the city."
Coffee machines supplied by Melitta Professional
Relaxing together: this is where gastronomy plays an important role at the "Hus". In addition to popular classics such as köttbullar, salmon and smörrebröd, IKEA's Swedish restaurant and café offers a variety of seasonal dishes. Apple pie and almond tart are popular choices to accompany a cup of coffee – which also plays an important role in the employee restaurant, the Swedish bistro and the first IKEA snack bar on the rooftop terrace. A total of six Melitta®Cafina® XT8s are ready for self-service operation in the restaurants. They offer a choice of eight products via the touchscreen: "Verlängerter" (black coffee diluted with water), "Verlängerter" with milk, cold bio milk, warm bio milk, lactose-free cold milk, lactose-free warm milk, hot water, cocoa. The top model from the XT series for up to 250 cups per hour is also used by IKEA in its Swedish bistro. The Melitta®Cafina® XT6 is used in the TOPPEN snack bar on the roof terrace. Via the touchscreen, service staff can choose: "Verlängerter", "Verlängerter" with milk, cappuccino, cocoa, cold milk, warm milk, steam or hot water.
"Just like our 'Hus', good coffee brings people together," comments Market Manager Johanna Cederlöf. "At our IKEA Vienna Westbahnhof store, we invite customers to spend quality time with us, to find inspiration and to relax. We are committed to improving the everyday lives of ordinary people and enjoy working together with like-minded partners. Our delicious UTZ-certified PÅTÅR coffee is a perfect match for Melitta – a brand known for the highest standards of quality and professionalism. Together, we provide enjoyable moments for our customers at the 'Hus'."
At JO&JOE Vienna, guests serve themselves from two fully automatic Melitta® cup III machines. The touchscreen display offers: espresso, large espresso, "Verlängerter", cappuccino, "Melange" (black coffee mixed with creamy milk), cocoa, and hot water for tea. Julia Neuhold, General Manager of JO&JOE Vienna, explains what is important to her: "What matters most to us here is fast coffee enjoyment combined with quality. We are very satisfied with the cooperation with Melitta Professional".
Coffeemachines at IKEA Vienna Westbahnhof and JO&JOE Vienna