Melitta ® filtered coffee.
Melitta ® filter paper
Filter paper for clear and grounds-free filter coffee. Guarantees a high yield in flavour even with small quantities, retains almost all torrefaction and bitter constituents.
The Melitta ® pyramid filter system
In combination with the filter paper, the pyramid filter ensures excellent flavour development and coffee powder yield with large or small quantities. The filter paper is made of highest oxygen-bleached cellulose quality.
The result of this cooperation: Finest, grounds-free coffee, which remains fresh, even after longer standing times.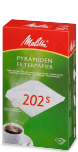 Downloads
Find out more?
Here you will find detailed information on the Melitta® filter paper.
go to planner's manual