Quality – and where it comes from
Our logistics and coffee machine production facilities in Minden.
We produce our coffee machines on several lines and get them ready for despatch on our 17,000 square metre site. To high quality standards, completed by hand with attention to detail.
For example: Melitta® Cafina® XT6 - facts and figures
2000
individual components are built into the machine, which is only 30 cm wide
81
81 metres of cable are included, 20 metres of tubing and pipework
Up to 34
valves control the preparation processes for coffee and milk foam
Passion and expertise to meet your requirements
See how your machines are made and what else we can do for you.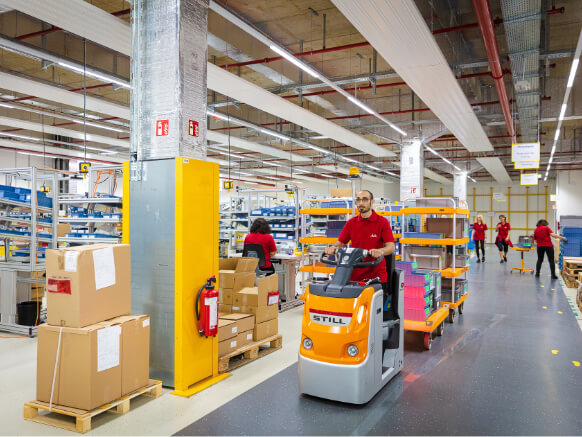 The kanban train restocks as required
The kanban train shuttles between stores and assembly and delivers containers refilled with components as required. The barcode on the tickets (kanban in Japanese) on the containers provides information on the content, quantity and stock levels.
Flexible design
On the new site, pre-assembly was made even quicker to learn and even more flexible. This means that several lines lay the foundations for final assembly at the same time. This extended pre-assembly makes final assembly easier and can also react more flexibly. Our coffee machines can therefore be assembled in accordance with our customers' specific design requirements. As far as possible, final technical testing has been automated with 52 recently developed testing stations.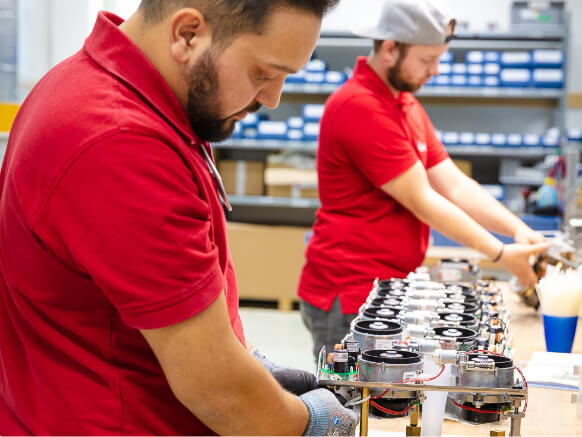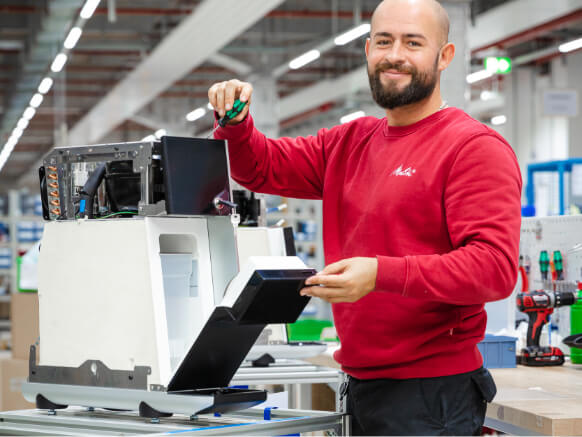 Design on demand
But the assembly line has to be flexible too: from the number of grinders and bean containers, through the number different sorts of chocolate and milk, to the number of milk cooler, cup warmer and billing systems – our customers can decide for themselves.