The huge plus to go with the pleasure: coffee revives, connects and inspires people
Small beans, big effect: coffee can do much more than "just" taste great. Be it in meetings or informal get-togethers in the coffee bar – many a good business idea has come about over a cup of coffee. Coffee is a must these days in the office, meeting points or in co-working areas and is just as indispensable as Laptop & Co.
Spoil yourself, your staff and customers with the diverse range of coffee solutions to enjoy from Melitta Professional. Our coffee machines cope easily and reliably with large quantities and special requests – even the right temperature of hot water for those who enjoy an inspired cup of tea.
Internationally successful professional technology for top quality in every cup:
Large variety of speciality coffees in a short time
Speciality coffees, hot chocolate and tea
Slim and elegant design
Multimedia touchscreen
In-house technical customer services even at the weekend
Reliable partnership on equal terms
The right coffee machine for every application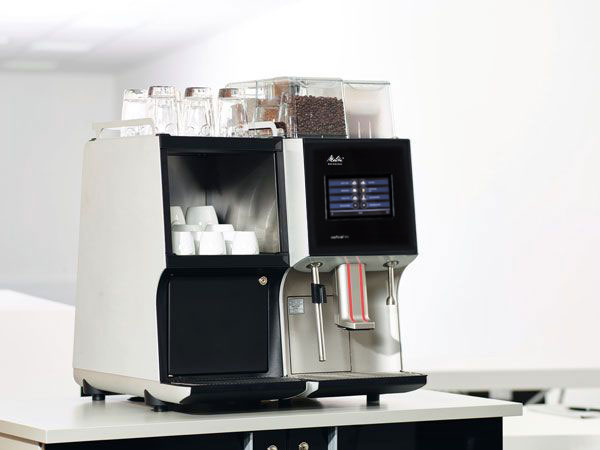 A good working atmosphere smells of coffee – motivation can be that simple
Every working day needs little moments of enjoyment. Whether they need to refuel or have a quick breather – your employees won't just enjoy their work but they will be more productive and good-tempered if they can enjoy delicious speciality coffees. And that goes for the boss too, don't you think? The coffee machines in our Melitta® Cafina® XT series cut a fine figure in the office. Slim and elegantly built, they blend in seamlessly and liven up any coffee corner. The multimedia touchscreen with a tough glass panel arranged ergonomically at an angle encourages self-service. Enjoy this moment of anticipation of the delicious speciality coffee. Relax and reposition – your coffee from Melitta Professional will assist you in the process!
Find out more
Urban Gardening with coffee grounds
They see themselves as "providing clarity in the dense fog of online shopping", according to their corporate brochure "Wir" (Us). The price comparison portal "idealo" employees over 700 people in the Ritterhöfe building in Berlin's Kreuzberg neighbourhood. The central meeting place at the company is the cafeteria which has a large communal kitchen for the staff to use and two fully automatic Melitta® Cafina CT8 self-service machines that frequently see 800 speciality coffees being prepared as required on a work day.